Halloween has always been special to my fun-loving family. Growing up, I thought everyone's dad dressed up like a clown for Halloween.
In 1976 when I was working at McDonald's, dad helped me dress up for work when I drew the Halloween shift. He pulled out his clown suitcase (yes, there really was a clown suitcase) and cracked open the makeup. I thought I looked awesome! I wasn't the least bit surprised to see him stop by that night all dressed up himself. I still smile at the memory of it.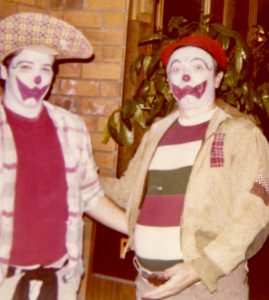 In 1986 my daughter Katie (Kat) was born on Halloween morning. I've always thought it was perfect timing. From that moment forward, we've had two reasons to celebrate the day. When she was just two years old I dressed up as the Beast from Beauty and the Beast and she was a racoon.  We even made it into the local paper. 
My parents embraced the holiday and showed us that it was okay to be goofy and have fun. A lesson that I call on frequently in my adult life. Here you can see them dressed up as Salt & Pepper for Kat's fourth birthday.  They were nothing, if not creative!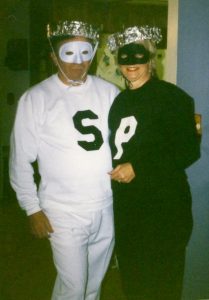 These days, as empty nesters, my wife and I lavish our dogs with silly costumes. I'm not at all sure they approve, but Hermione (our Pug) can always be spotted wearing a festive Halloween sweater. Here you see her wearing her Game of Bones costume. Personally, I think she loved every minute of it. 
I'm aware, that to some, this fuss might sound a bit silly. But I would beg to differ. Maybe the world needs a little more silly. Maybe dressing up one day a year and hanging with friends, sharing laughs and stories and making memories is the very least we can do for ourselves.
For me, Halloween will always mean a birthday cake, a pug in a goofy sweater, a clown outfit with makeup, and about a million memories I wouldn't trade for the world.
Now it's your turn. I showed you mine, and I'd LOVE to see your favorite Halloween memory!
Hoping you have a safe and fun holiday. And as always, I'm hoping you are taking lots of pictures, so we can make a memory video for you one day soon.
Because I'm that guy!