As summer winds to a close, and the kids are once again back at school, it's a great time to focus on getting those special photos in your photo-albums archived. Almost everyone has a stack of photo albums tucked away in a hall closet or gathering dust on a bookshelf in your family room. That's no way to treat memories that comprise our life and loves.
I get that the task can seem daunting, but this is what I do, and I've got some great TIPS on how to get those important photos to JPEG in no time flat!
First off, take baby steps. You don't have to get it all done at once. Pick an album, a year, or an event, and begin there.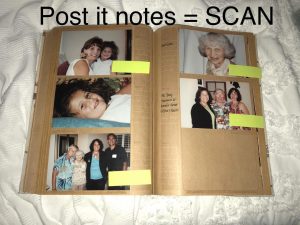 Post-it notes are an awesome tool when it comes to picking photos. Don't bother removing the photos from your albums, just use post-it notes to mark the ones you want to archive. Whether you do it as a family project or simply scan through them while watching your favorite programs, once you're done, turn it over to us, and we will take care of the rest for you.
We'll put them on a flash drive, forever rescuing your memories from dusty cabinets and yellowing albums.
And there is no greater gift come holiday season than these small thumb drives filled with your families treasured memories.
Because life's best moments are worth sharing and safekeeping.
Let's get started sharing and saving yours!