Sometimes to get a story you have to go to faraway places. Sometimes you just need to go to your own back yard.
A couple of years ago, my mother in law asked me to produce a video celebrating her husband's 85th birthday. She also wanted to pay tribute to the fact that he had been a pilot for most of his life. I love a challenge!
I tackled the project by putting the video into 3 sections: his flying history, including photos and silent film from back in the day, his family greetings from California to Israel all on video, and lastly, I finished the film off with my mother in law flying an airplane for the first time in 50 years. She had a copilot, of course, but she did it.
The video received rave reviews on his birthday. Everyone loved it, and my mother in law presented me with an Oscar. How fun is that?! More importantly, there was laughter, tears, memories and a linking of heart and mind.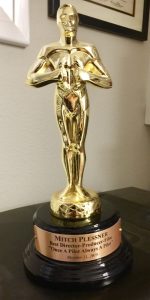 Earlier this year my mother in law suggested we celebrate OUR founding fathers for the fourth of July; Bernie and his brother Leonard. Bernie will be 87 and Leonard is almost 89 (yes, that's them in the picture above, then and now).
You got it; I set out to put together a family history covering both men, their parents (and their wives and families), relatives in Israel, all the kids and grand-kids, and their long business career together. The story would be celebrated in Malibu where everyone would gather together at the beach. It was an epic undertaking that required me to travel all over the city to capture everyone on camera.
I added photos from the past as well as the present, and mixed in music and sound effects. It ran 44 minutes and the family loved it. True to form, my mother in law showed her gratitude by presenting me with a glass award for my efforts in chronicling our Founders Day activities. It's great to be appreciated.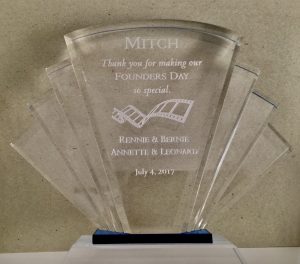 Our life history is worth telling, sharing and remembering. Legacy Videos are an awesome way to preserve the memories of our lineage, and they make the perfect gift of invaluable worth filled with love, from here to eternity.
Keep in mind that a Legacy Video doesn't have to be a miniseries or an extensive documentary. It can be simple and elegant, brief and touching.
If you're interested in getting started on your legacy video, let me make it easy for you:
Give me a call and let's set up your FREE consultation
Let's go over topics/questions and gather photos to be included
Let's record it all in the comfort of your home
I'll add photos and titles to the video
The first edit is delivered to you to make changes and get your input
Final product is delivered in 2-3 weeks
Preserving our past is one of the greatest gifts we can give to our children and our children's children. After all, life is to be shared … and remembered.
Mitch